Apr 7, 2016
ຜົນການຈັດອັນດັບໃນເດືອນເມສາ 2016
ປະເພດທີມບານເຕະຊາຍຂອງຟີຟາ ປະກົດວ່າ
ອາເຈັນຕີນາຂື້ນມາຄອງອັນດັບໜຶ່ງແທນເບລຍຽມແລະທີສາມແມ່ນຊີລີ.
ສ່ວນທີມຊາດລາວຕົກໄປເປັນອັນດັບທີ 182 ຂອງໂລກ ແລະເປັນອັນດັບ 39 ຂອງອາຊີຮ່ວມກັນກັບກຳປູເຈ້ຍ ແຕ່ຫຼື່ນທີມອິນໂດເນເຊຍແລະບຣູໄນ ສຳລັບເຂດອາຊີຕາເວັນອອກສ່ຽງໃຕ້.
ແຫລ່ງ FIFA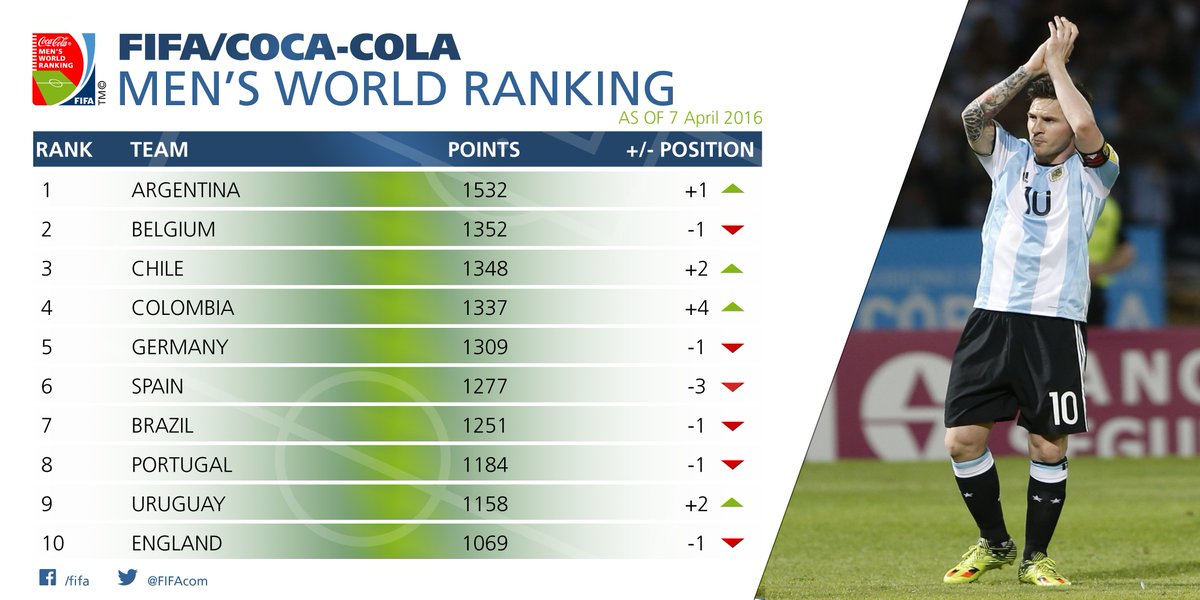 http://www.fifa.com/fifa-world-ranking/ranking-table/men/afc.html
Apr 5, 2016
Apr 3, 2016
Mar 31, 2016
Blogs+Previous articles

Hot topic
อินทรีอันดามัน'' กระบี่ เอฟซี ฤดูกาลที่ผ่านมาถือว่าเป็นทีมน้องใหม่ที่สร้างสีสันไม่น้อย เพราะมีผลงานที่ยอดเยี่ยมจบเลกแรกขยับขึ้นไป...

Post here ບາເຊໂລນາບໍ່ປ່ອຍໃຫ້ເນມາຫລີ້ນໃນເສິກ ໂຄປາ ອາເມລິກາ ທາງສະໂມສອນອະນຸຍາດໃຫ້ເນມາເປັນຕົວແທນຂອງປະເທດບຣາຊີນຫລີ້ນໃນກິລາໂອແລັມປິກ ແຕ່ ...

The schedule for UEFA EURO 2012 in Poland and Ukraine has been confirmed following the draw in Kyiv. Poland will launch t...

Barcelona  have announced on their official website that they have agreed a fee with  Valencia for the signing of  Jordi Alba . ສະໂມສອ...

The Cambodian national futsal team, including five officials and 14 players, flew to Bangkok yesterday afternoon ahead of participation i...

Groupings for AFF Futsal Championship 2013 KUANTAN (3 April 2013) –  The official draw for the AFF Futsal Championship 2013 was held t...

PETALING JAYA: Former national coach Wan Jamak Wan Hassan recalls the bitter lesson taught by 'spoilers' Laos 15 years ago. Then, the nat...

Laos U14 http://www.the-afc.com/en/afc-u14-championship-2013-schedule-results.html News on  Match http://www.the-afc.com/en/tou...

News around Asia VIETNAM FUTSAL GEARS UP FOR BUSY YEAR DECEMBER 25, 2011   HANOI (25 Dec 2011) –  With Sergio Gargelli's con...

BIDC CUP2013 : cambodia U23 VS Laos U23  Live score (2:2) Laos 2 matches,1 lose and draw. as for Cambodia, 2 matches all draw with 2 poin...